This post is part of a series. To start from the beginning check out Creating a Rain Garden Part 1.
I don't make decisions quickly. I have to take the information in and mull it around in my head. I have to think about all the different angles. Often I just have to wait until my gut tells me which decision is best. Sometimes, I have to do research. (Click here for Creating a Rain Garden Part 1.)
About 3 weeks ago, I went to a garden shop in town that has lots of native plants. Then a week later, I went back to take pictures of every single native plant they had. They had 45; I just counted. I made sure to have a good shot of the label so I could look the plants up.
That's what I did next. I researched every single plant the garden shop had that is native to Illinois. Luckily there are some great websites where you can plug in either the scientific or common name. I wrote down the size of the plant, the type of soil the plant does best in, the amount of sunlight the plant needs etc.
Very few plants had a soil type of moist on the label so I did a bit more research. I wanted to make sure I knew which plants could do well at the deepest part of the garden. I made some phone calls and posted a question on a message board. I got lots of replies, so I was now confident that I knew which flowers I wanted to go with.
I finally got to the shop today. The plants I purchased were Swamp Milkweed, Blue Flag Iris, Blue-eyed Grass, Cardinal Flower and Lance-leaf Coreopsis. Here they are in my trunk.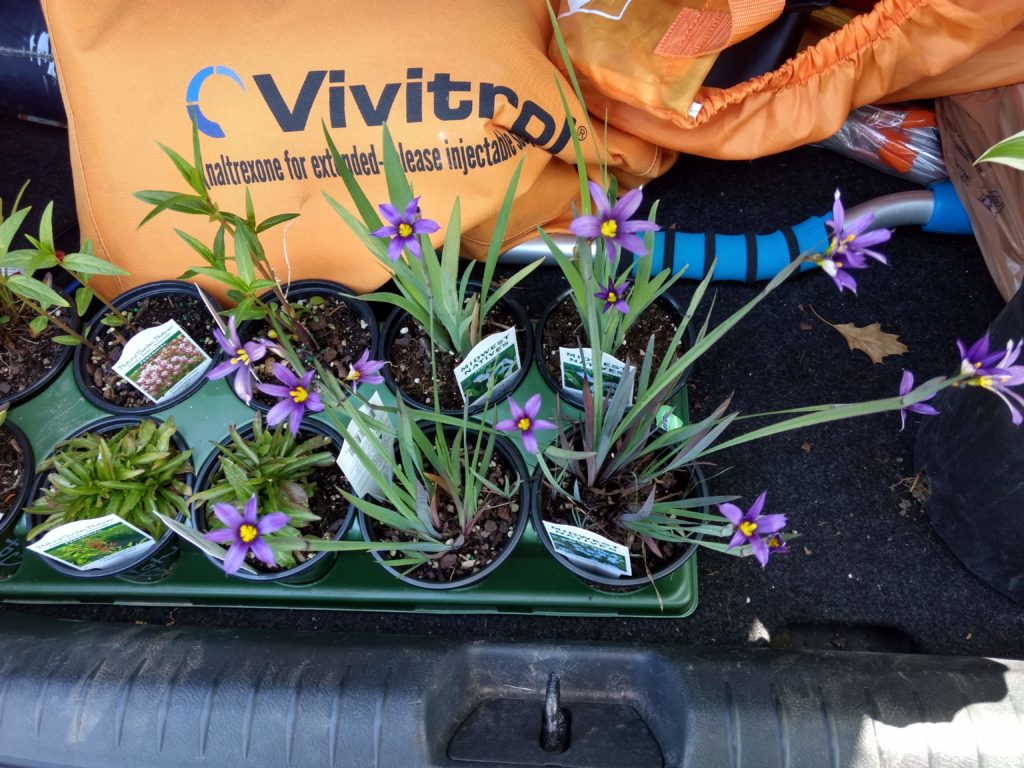 I have a general plan for how I'll lay out the plants and I don't think I'll be able to make a final decision until we're planting–on account of me taking a long time to make decisions.
My next step is to paint around the spot where I want the garden to be dug out. The goal is to dig next week! 
Peace Out (and In),
Julie
The next post in this series is What's a Rain Garden?