I like to knit things for people, and I like getting their input before I start the project. If I'm hanging out with a friend in person or online, I'm likely knitting, which is a great segue into asking someone questions about what they'd like.
I've been knitting cowls lately, so I asked a friend if she wanted one. She said yes! Yaay. She had some colors in mind–grey and pink to match her coat, and she even had a cowl she'd worn in the past that I could measure. She was making this so easy!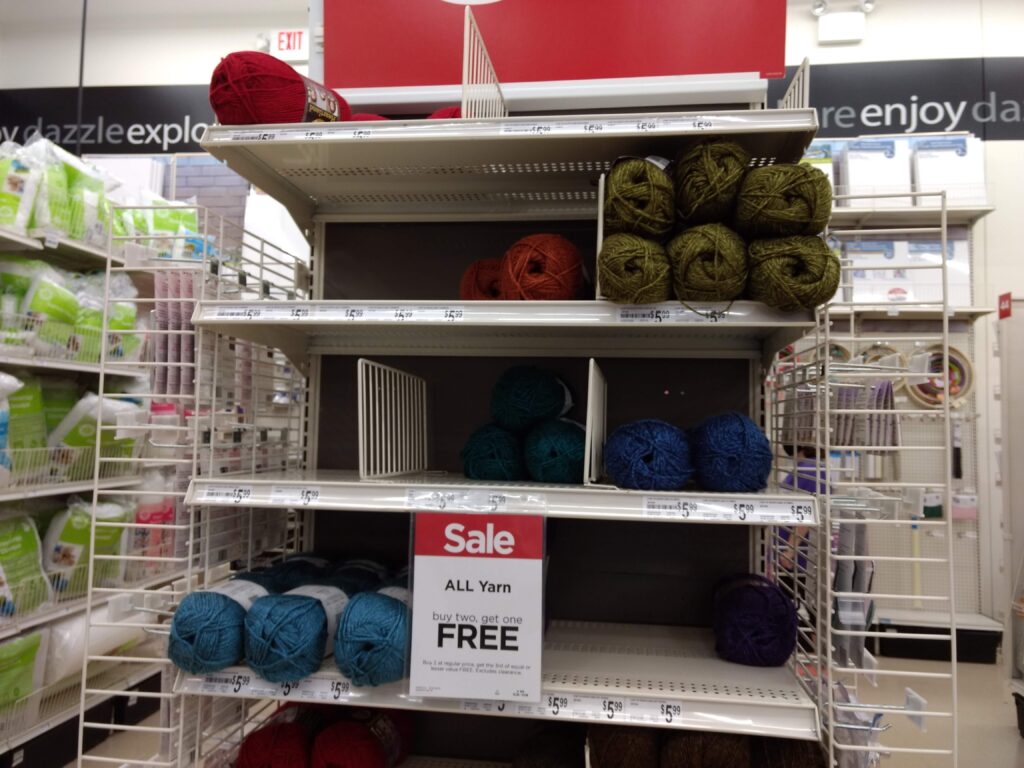 I started yarn shopping. I found a bunch of grey and pink yarns I did not love. Some skeins had pinks and greys together. I put grey and pink skeins side by side to see how they'd look. Eh– neither type was speaking to me. I also wanted to go with a bulkier yarn because that's what my friend's previous cowl was in and I wanted it to be super warm.
I found a skein of Charisma yarn in pinks and greys and some purple. Though she asked for just pink and grey, my friend has a fun energy, and I thought she'd welcome the bright purple as well. I'd couple this variegated yarn with a plain grey to ground it a little.
Now I needed to find a pattern. I searched the yarn on Ravelry and found very few cowls I really liked. I also wanted this cowl to have a little whimsy to it–I didn't want straight stripes or a serious-looking pattern all of one stitch.
I found whimsy in the form of a feather and fan stitch. A friend had recommended this stitch pattern years ago, but I never got around to using it. Here'd be my first go.
When I start something new, I typically use a free pattern. I haven't built up preferences yet, so I don't have to find that one perfect pattern. The free download I found looked great.
I downloaded the pattern, and man, I had trouble with it. I wanted the cowl to be a tad larger than the knit up project pictured, so I added the 12 stitches the pattern suggested.
It didn't seem like things were lining up correctly. The yarn overs, which make holes in the fabric, weren't seeming to line up with the yarn overs in the previous row. I looked up comments people made about the pattern on Raverly and one person said the pattern was incorrect. I jumped on that bandwagon. The pattern must have a mistake. I watched some videos on feather and fan to figure out how to fix the pattern.
I figured out that really I should add 16 stitches to correct it, but 16 stitches in a bulky yarn would make the cowl larger than I wanted. Plus, the yarn over holes weren't totally off–there needed to be moved over just a tad. Maybe half of the feather and fan stitch pattern would line things up I added 8 stitches. Nope. That didn't work either.
I went back to the drawing board. I looked for other patterns and again couldn't find another one I liked. So I tried again. This time I wrote a note on my project page that the pattern was off and that 16 stitches were needed instead of 12. I contacted the knitter who created the pattern and told her it was off and that she may want to change it for future knitters.
I received the kindest and most patient note back saying that the pattern was correct. The pattern designer explained why the number of stitches were what they were and she even cast on a new project to double check that her numbers were right. I was kind of embarrassed, but leave it to knitters. We are a pretty nice bunch. The knitter whose bandwagon I jumped on must have, like me, made some other mistake.
I decided to try again. By this time I had taken the project out maybe 5-7 times. I was on a mission now.
Yup, that time it worked. I don't know what I did differently besides trusting the pattern.
Next, I just had to decide how tall to make the cowl. I wanted it long enough that my friend could pull it over her head like a babushka. Maybe she'll even give me a picture of it like that on a cold winter day she's outside for work. I knit a bunch of rows in the grey, then added the colored skein and back to the solid gray.
I'm glad I chose this pattern and though I made mistakes one after the other, I am glad I persisted. It turned out really nice.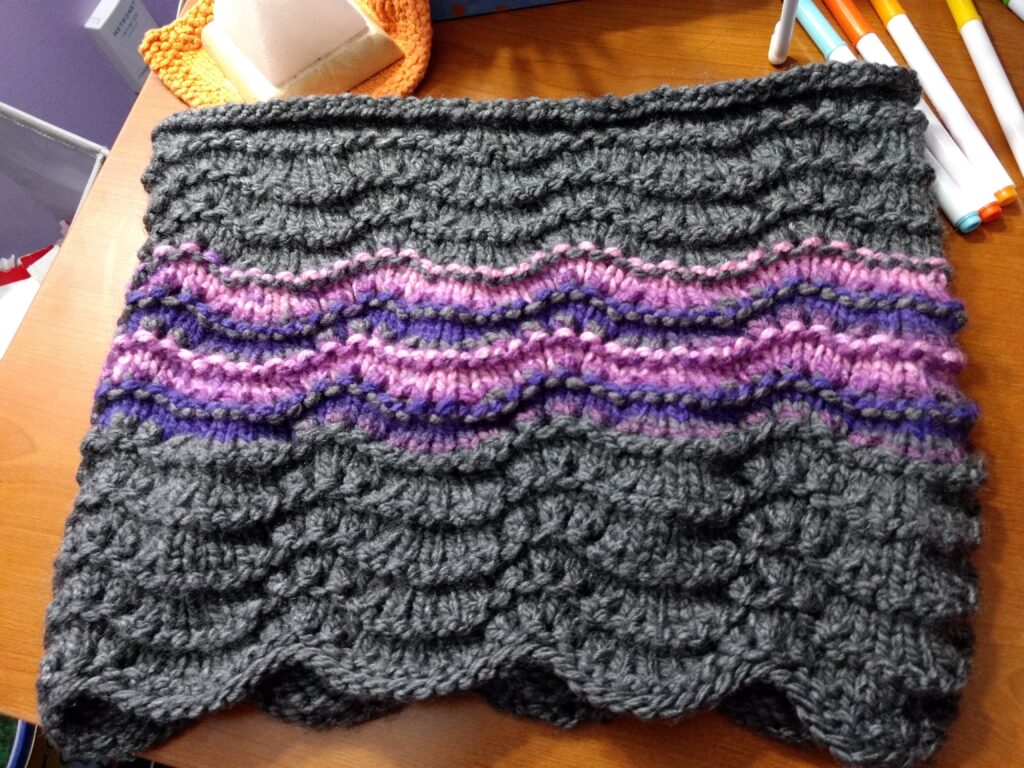 That, my friend, is the origin story of the frustrating, but totally worth-it cowl. It was worth it because I learned a new stitch, I met an awesomely nice designer, the cowl turned out great and my friend liked it.
Peace Out and In,
Julie