One may not see knitting as a dangerous pastime. Beyond the semi-sharp needles, what is there to worry about? A rogue strand of yarn getting untucked? An unwanted increase or decrease? The risk is much higher than that, my friend. Let me back up a bit though.
I bought this Cross Stitch Cowl pattern about 7 years ago and have used it for a ton of cowls. My first was knit out of a purple and maroon sock yarn.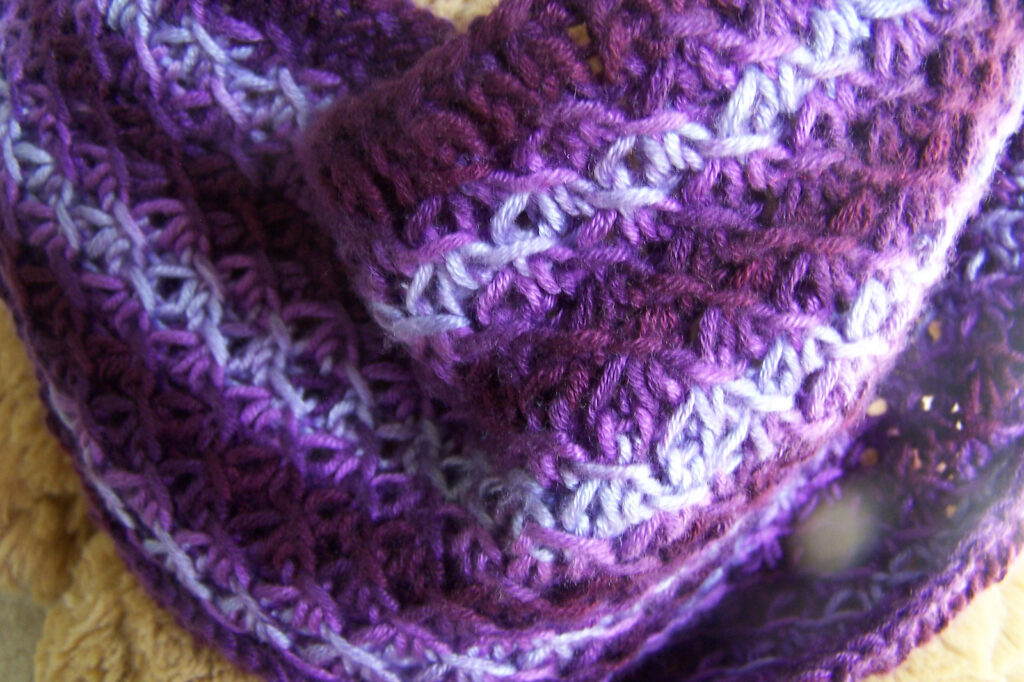 Another was this teal and grey cowl I knit out of a silk blend given to me by a close knitting friend.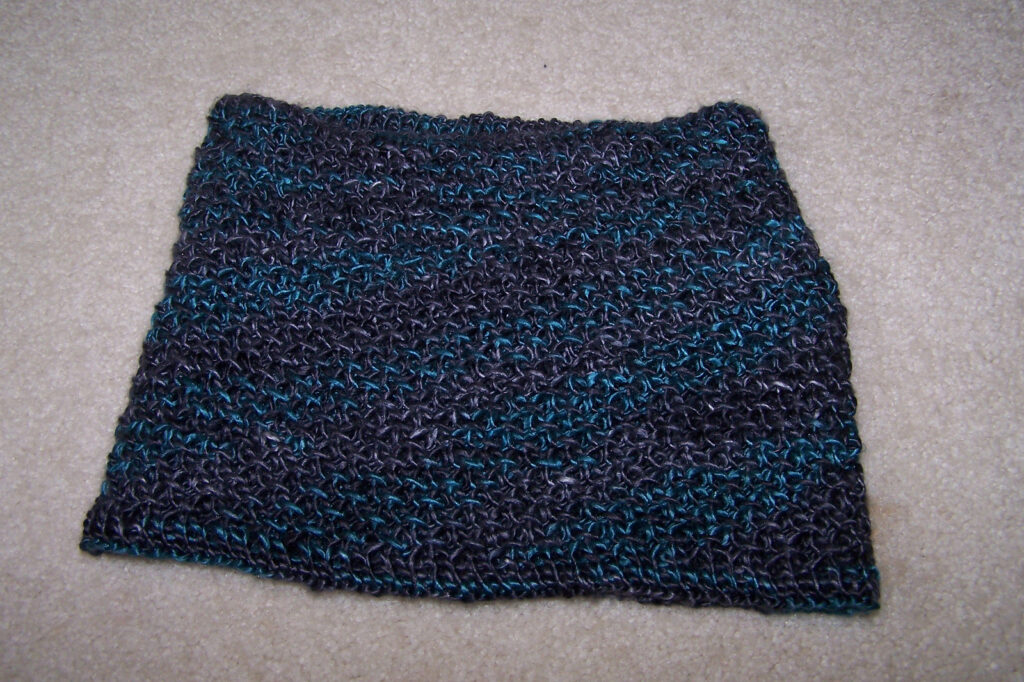 Then, I had some brightly-colored Shawl in a Ball yarn (not an affiliate link) left over from a small doll dress I knit up, so I made this rainbow-colored cowl.
After I knit a shawl for a friend, I had some left-over Cupcake yarn (again, not an affiliate link), so I decided I could handle making another cowl. The colors don't suit me, but I think it will be nice for a friend or a donation recipient (I haven't decided yet).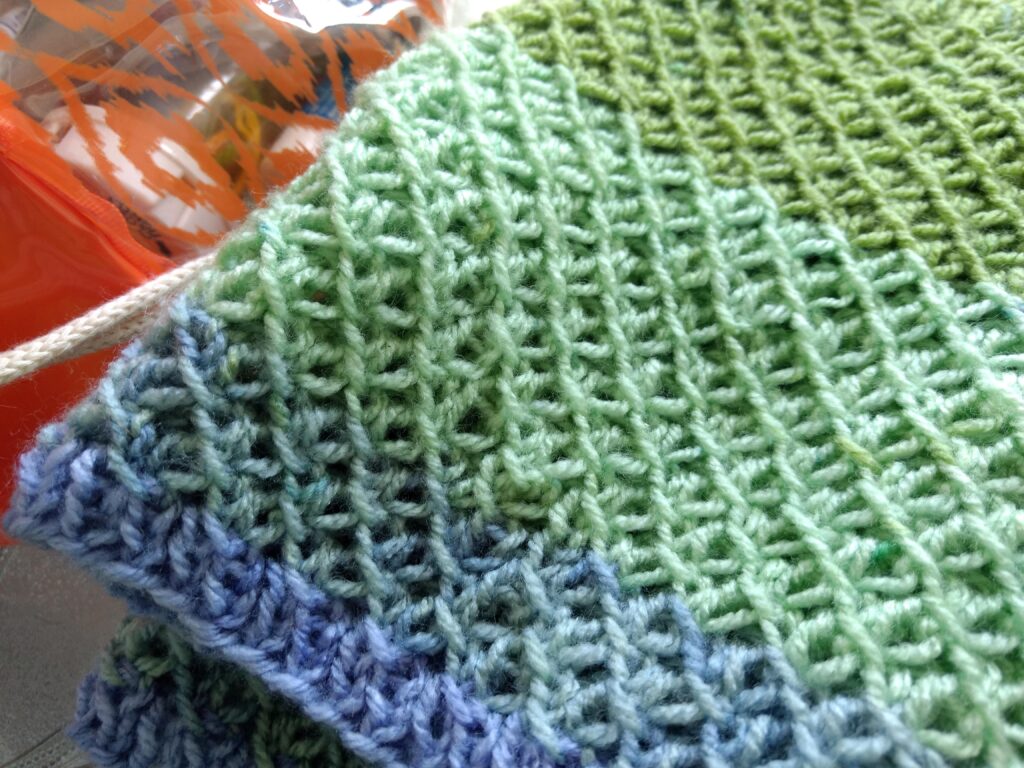 Well after the cowl was done, I still had yarn left over, though not enough for another cowl. I decided I'd try a hat.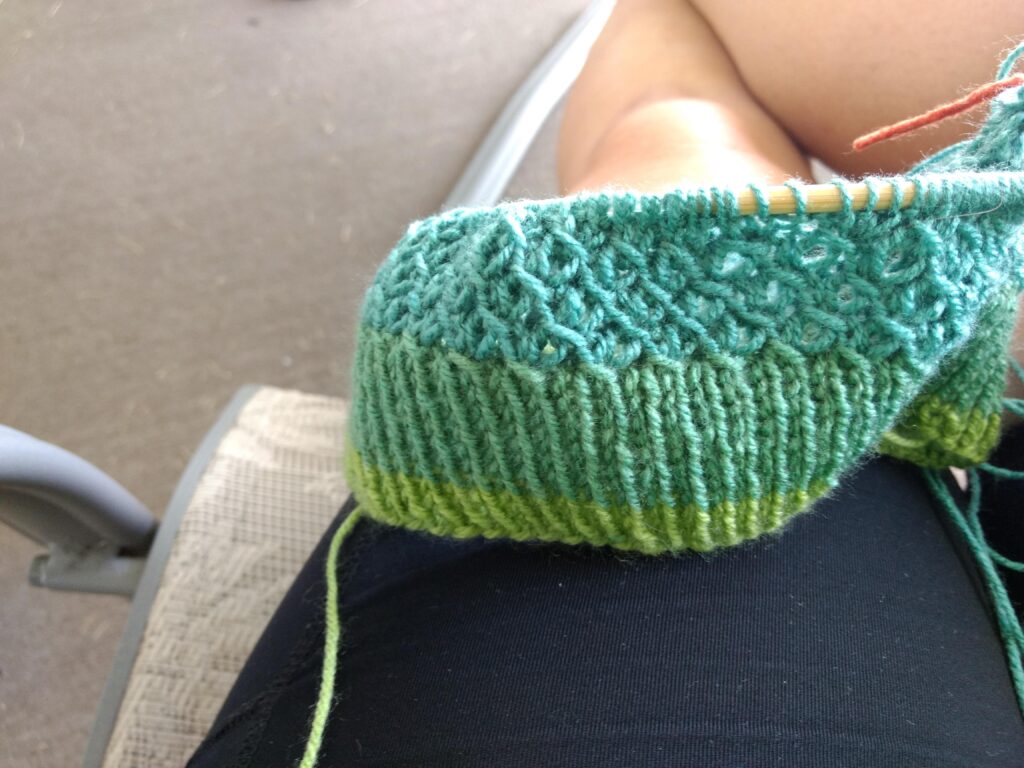 I didn't know if I had enough yarn for a hat, but I had to try. A funny thing happened–the more I knit, the smaller the yarn ball got. Ok that is what always happens with knitting, but the rate at which the yarn ball was disappearing was scary.
I unwittingly joined a game of "yarn chicken." What's going to "bail" first–the project (as it's finished) or the yarn? Unlike playing chicken where 2 cars race toward each other until the first person bails off the road, yarn chicken can take a serious amount of time. Every single row, you look at the project and then the yarn ball, the project, then the yarn ball.
Am I going to make it? Am I going to have to unravel all of this work? Do I have any matching scrap yarn? Am I willing to go out and buy a new skein if I run out? None of the options were looking good.
After hours of agony, I was at the crown.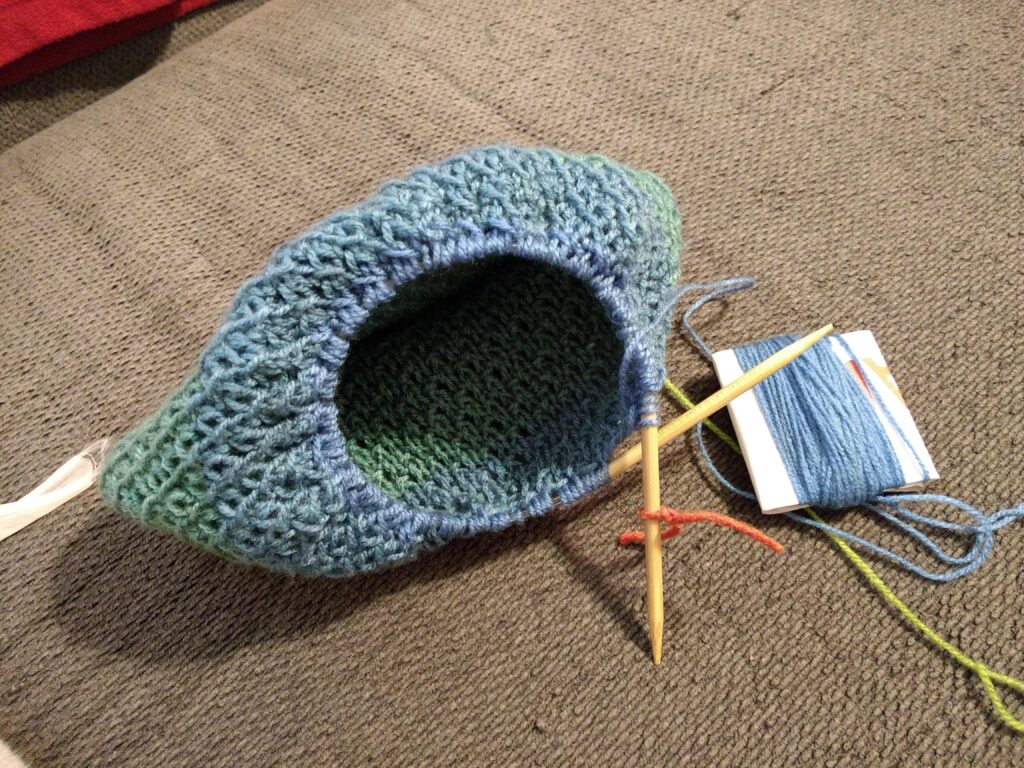 When you're this far, you've got to keep knitting.
There's always that possibility that the yarn will last. If it does, that hat will be so cute.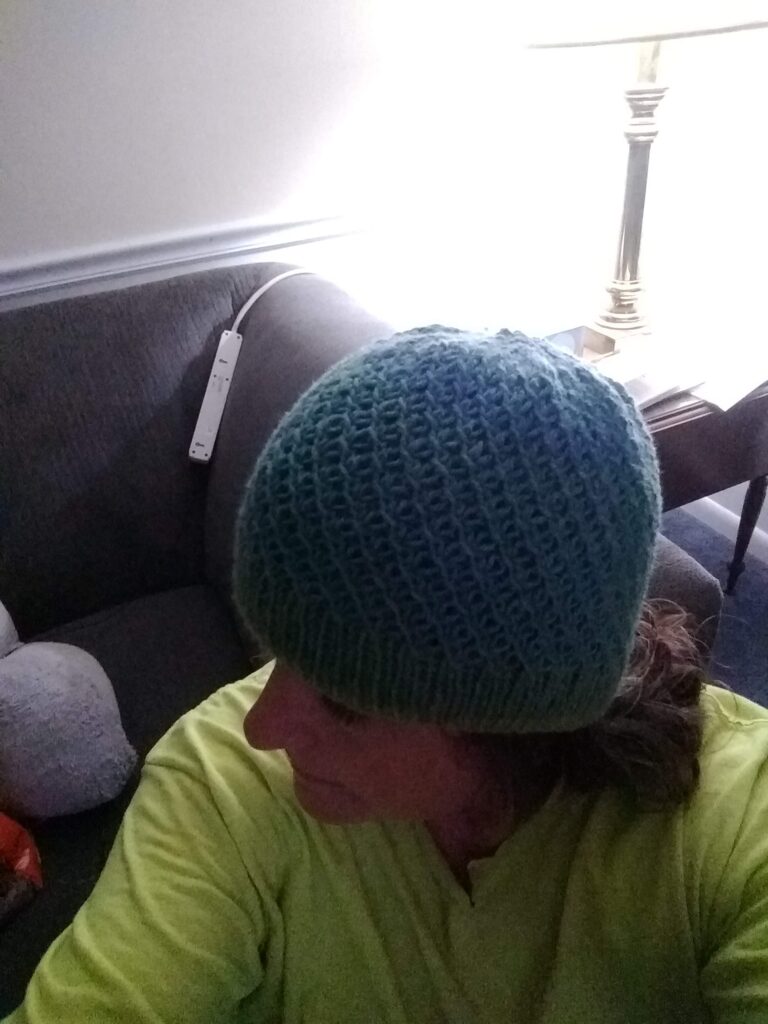 And finally . . . done! The project finished before the yarn ran out–this time.
Here's what's left: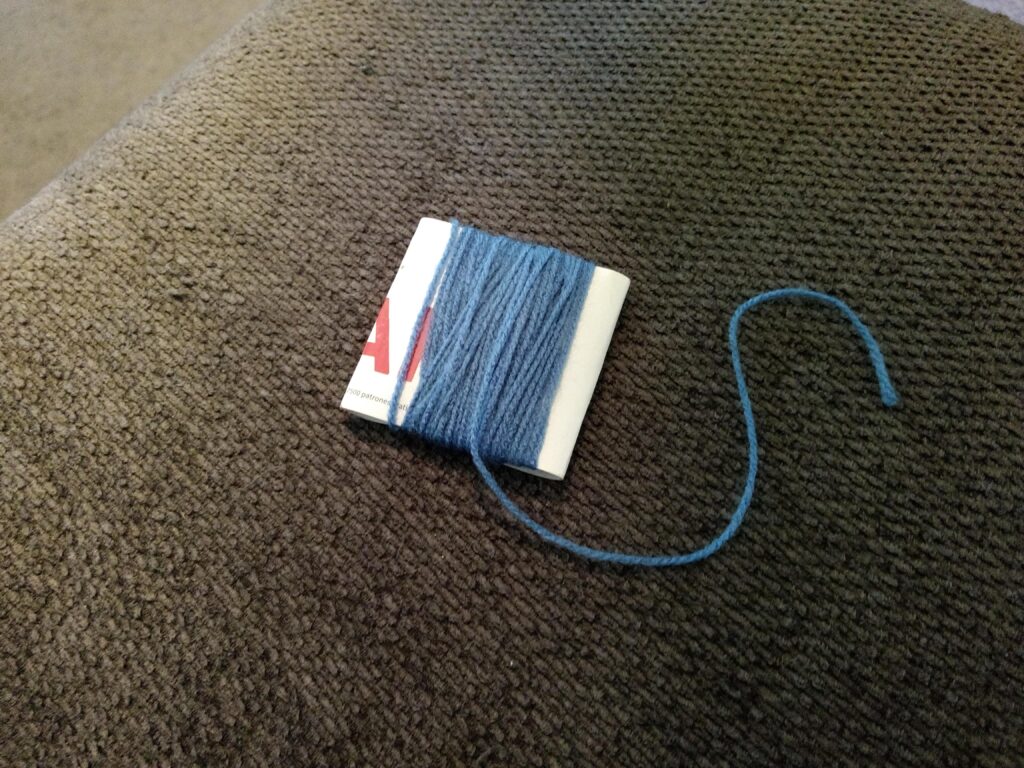 Living dangerously has its benefits. Here's how the paired cowl and hat turned out. Nice!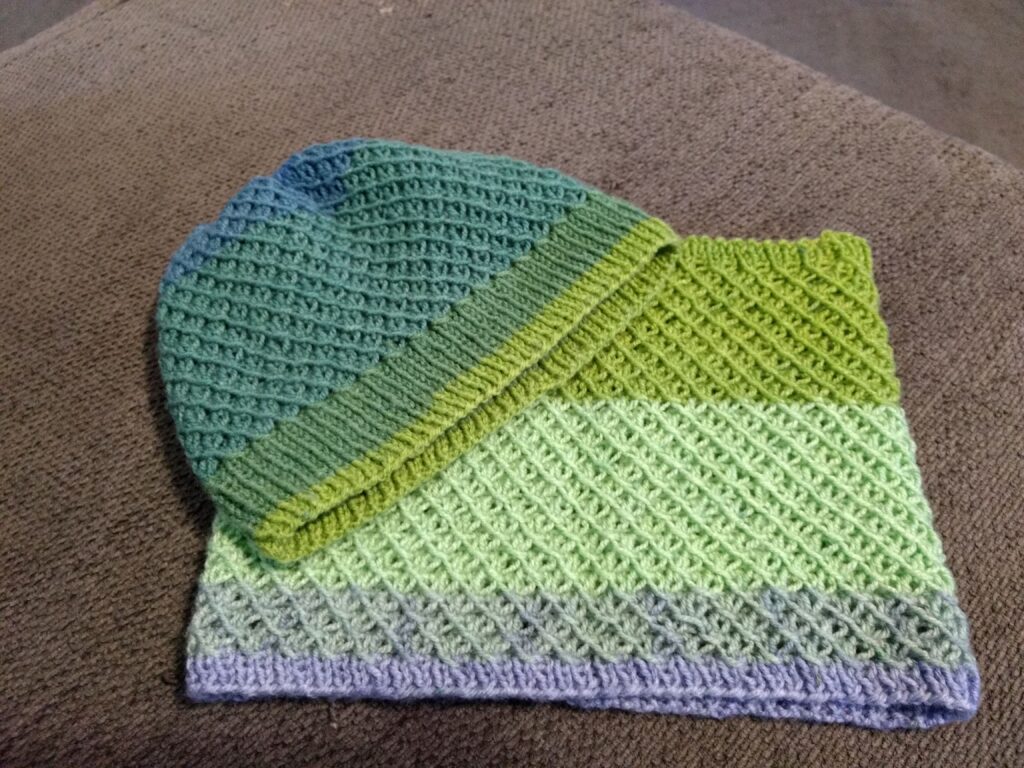 Needing some peace out (and in),
Julie