When I'm looking forward to something, it's easy for me to "wish away" the time. I focus so much on the future experience that I don't focus on the present. Sometimes I wish to escape the present.
I found the concept of early retirement while feeling trapped at work. I wanted to escape. I typed in "early retirement" and a post from my favorite blog Our Next Life came up. That was about 4 years ago. I have researched and made plans for an optional early retirement in 6 years. Now, I've got to get back to living in the present, and doing what I love helps me with that.
I love knitting. I love choosing a project to knit. I love buying the yarn. I love looking at how the colors of the yarn knit up. I love the community I find in knitting groups. I love completing a project.
That doesn't mean, though, that all projects turn out perfectly. My latest project is a shawl, and the edges are curling like crazy.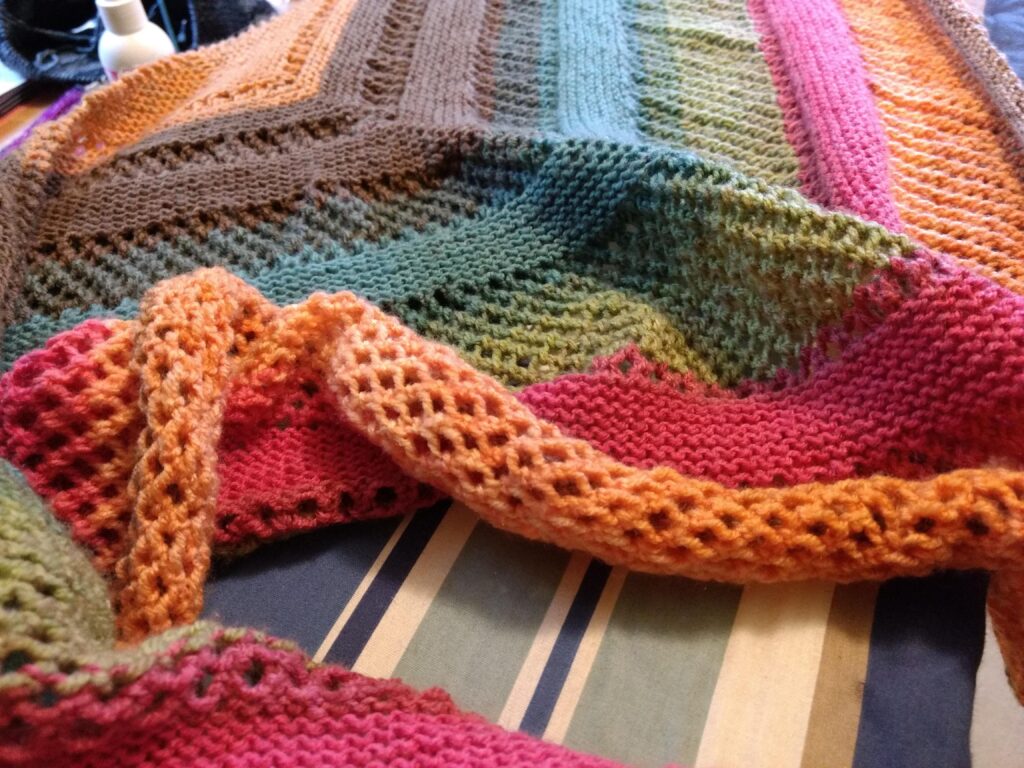 I didn't notice that the mesh parts of the shawl are basically stockinette–the eyelets or holes in the fabric distracted me. Even though the pattern is a knit 2 together, yarn over, it's still all knit on one side and all purl on the other.
---
I love how the shawl looks in general. The Lion Brand Cupcake yarn in the color Apple Picking knit up really nicely. This is the second time I used the Reyna pattern and I made lots fewer errors than the first one. Since the shawl is going to my mom's prayer group, I wanted it to look as professional as possible. I had to get rid of that curl!
First, I tried to block the shawl by laying it flat, spraying it with water and letting it sit. It worked a little bit, but still had a significant curl.
---
I decided to fold the cloth the opposite way of the curl. Again, I pinned it, sprayed it with water and let it dry.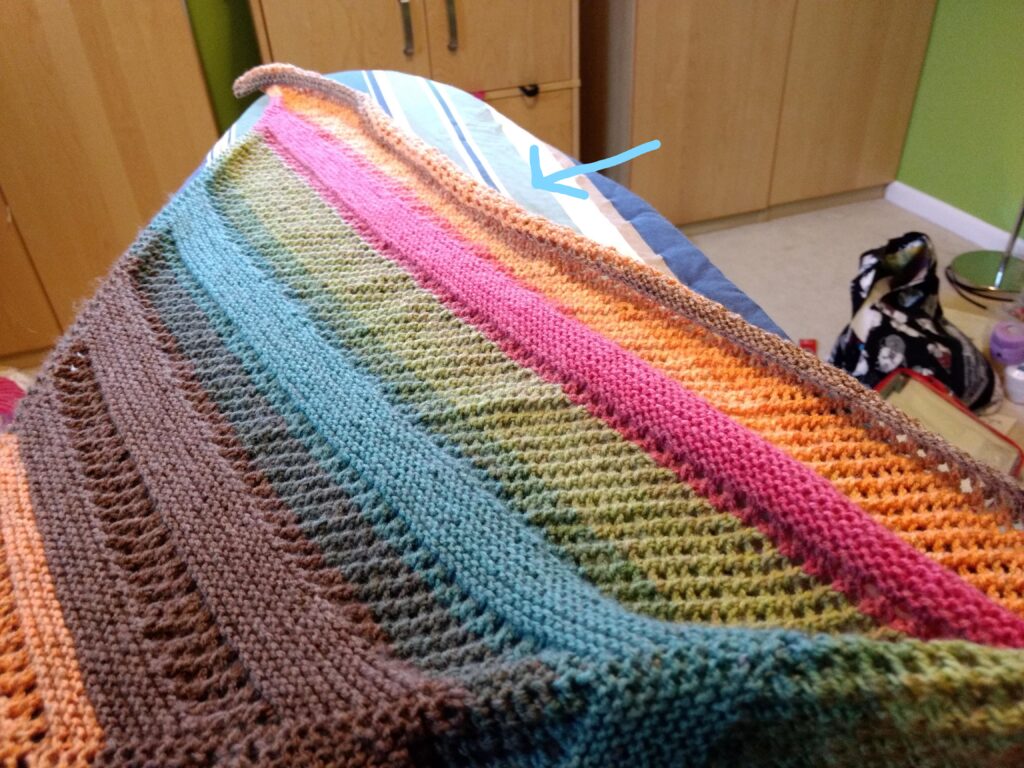 Ugh still curling!!
---
I folded the edge back over 2 times! I live dangerously, right? I pinned it and sprayed it . . .
and let it dry.
---
Finally, it laid flat. Woohoo!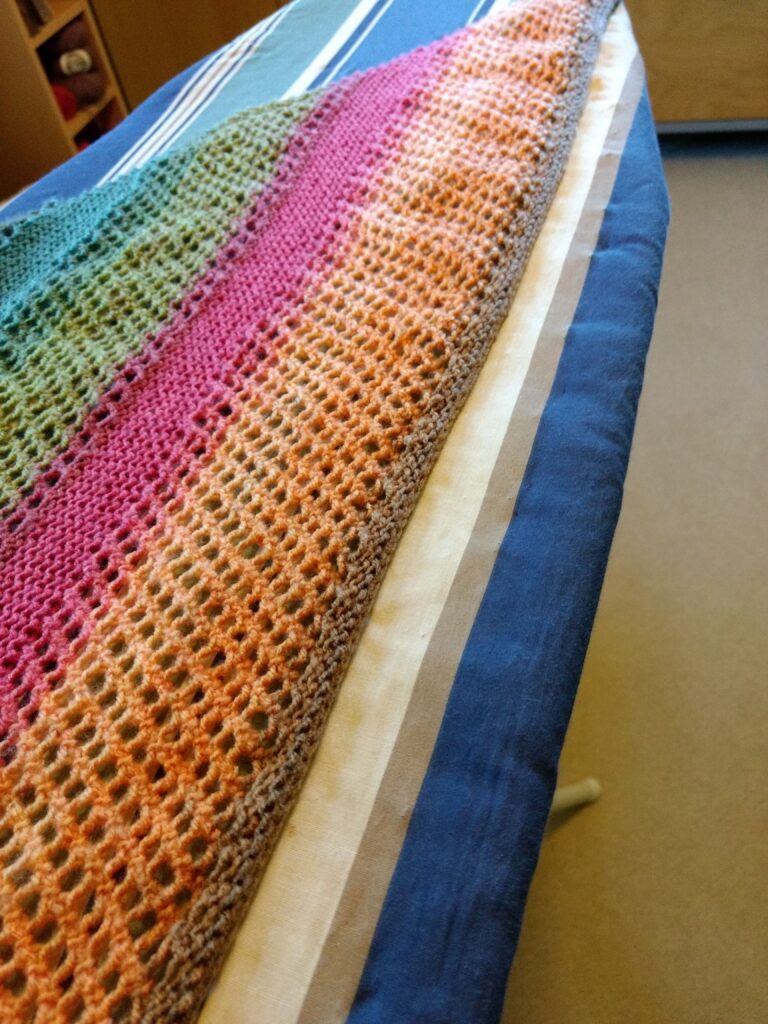 Look at that smooth edge!
---
 I took it of the ironing board, though, and it ended up curling a bit. (See the left side where the brown near the bottom vanishes–a tiny curl).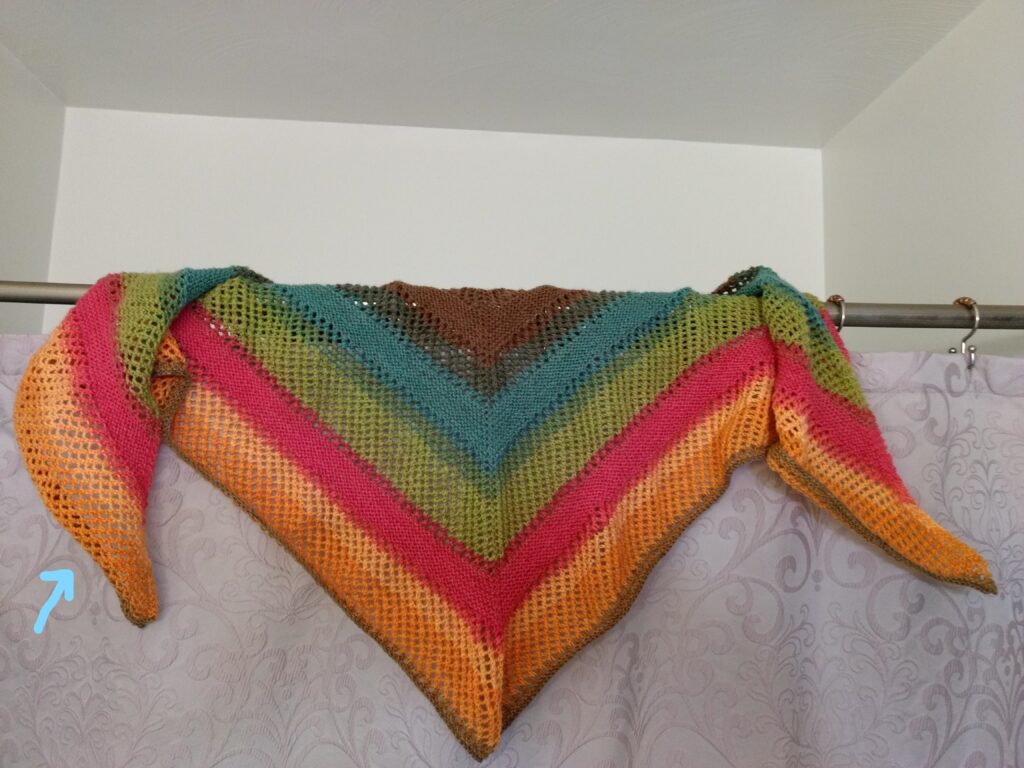 I think I will accept it as it is, curl and all, because the shawl is still lovely. And it's difficult to try to change the nature of things–including stockinette stitch.
Peace Out (and In),
Julie