Online Reading: I read all Our Next Life's new posts when they come out. Besides that I read a bit here and there–not focusing on any one blog right now.
Offline Reading: I am reading Brent Kessel's It's Not About the Money.
Podcast Listening: I am on episode 17 of Journey to Launch published Nov 1, 2017.
Playing: I'm currently playing Best Fiends.
Knitting: I'm currently working on a double knit cowl.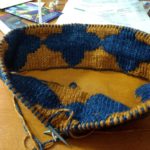 Peace Out!
~Jaye